Meeting rooms at Kimpton Hotel Wilshire
Opt out of "business as usual" and elevate your next meeting at Kimpton Hotel Wilshire. Thanks to our hotel's creative boutique ambiance and convenient Miracle Mile location between LA and Beverly Hills, this great selection of meeting venues in Los Angeles is where to host your done deals, impressed clients and buzzed about meetings. We get the big picture here: make you a star and your meeting a success. You take care of the PowerPoint, and we'll manage everything else from our Los Angeles meeting rooms to inspired catering by the culinary artists and the full support of our professional staff. It'll be one of the best investments you make all year.
Multimedia
Our support staff of high-tech ninjas are always on-hand to make sure your multimedia needs are met whether it's A/V equipment like flat screen monitors or high-speed internet and Wi-Fi so your event is a plug-and-play success.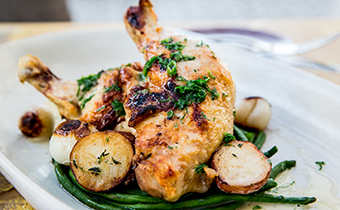 Food + Drink
Talk about pairings. Set like a foodie oasis our restaurant is also home to wondrous wines and delish garden-to-glass cocktails.
Meeting Spaces
Whether you're here to work or to play, check out our unique on-property spaces to host your next event at.