Intimate meetings and unique spaces
The endless ideas and film projects of Los Angeles are discovered and fine tuned in elite closed door meetings and private settings. Kimpton Hotel Wilshire has the intimate options your team craves to develop and create the next blockbuster or highly downloaded app. After your team achieves the unachievable, our rooftop Penthouse is the perfect setting for a celebration cocktail reception.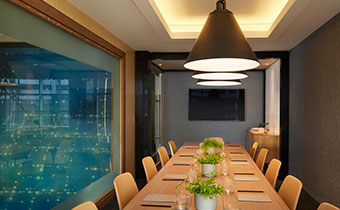 Boardroom
Features floor-to-ceiling windows creating generous for lots of natural light, a large wooden conference table, extremely comfortable cushioned swivel chairs and a 60" flat-screen television.
Capacity: 10 seated
Perfect for: trainings, board meetings, executive meetings, think tanks, brainstorming sessions, production meetings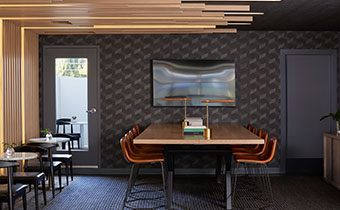 Étage
A semi-private, open-air space featuring floor-to-ceiling windows.
Capacity: 30 seated/40 reception
Perfect for: group breakfasts, luncheons, dinners, cocktail receptions, seminars, trainings, think tanks, brainstorming sessions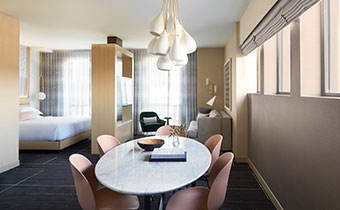 Hollywood Suite
Features a large dining table with seating for 8, a living room area with lounge seating for 5, and stunning views of the Hollywood Hills and sign.
Capacity: 15 seated/20 reception
Perfect for: breakout meetings, think tanks, production meetings, brainstorming sessions, interviews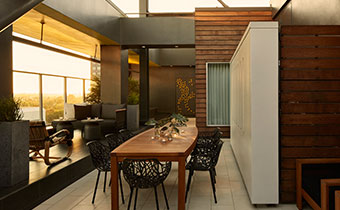 Penthouse
Our Penthouse suite features a private entrance with rooftop terrace and breathtaking city views.
Capacity: 15 seated/44 reception
Perfect for: intimate meals, cocktail receptions, think tanks, brainstorming sessions, breakout meetings